We cordially invite you to the 6th International Conference on Nanogenerators and Piezotronics (NGPT 2022), which will be online 20-23 june 2022. Since the inaugural meeting in Xianshang, China, in 2012, the International Conference on Nanogenerators and Piezotronics has been held in locations around the world, including Atlanta (2014), Rome (2016), Seoul (2018) and Cambridge (2020). We are delighted to announce that Mid Sweden University, Sweden, will join this list by hosting the 6th NGPT conference together with Uppsala University.
Sundsvall is an historic city located in Sweden's central region and recently celebrated the 400th anniversary of its founding. Mid Sweden University is a global university with a regional commitment to conducting research and educating people for life. We also collaborate closely with the ICT and forestry industries in Sweden and other European countries. The university is home to a rich and diverse scientific community and has around 13,000 students, 1,000 employees, 85 professors and 200 PhD students in 40 different subjects.
We currently offer 47 Bachelor's programmes and 37 Master's programmes.
NGPT 2022 will be organised by the research centres Fibre Science and Communication Network (FSCN) and Sensible Things that Communicate (STC), with plenty of opportunities for international collaboration and industrial involvement. Our strong commitment to energy research is evident in our well equiped facilities and centres of excellence that aim to bring academics and external partners together to tackle future energy challenges.
The conference aims to provide an international platform for researchers working in the field of nanogenerators and piezotronics from all over the world and to share and discuss significant advances and developments in this rapidly growing and technologically relevant field. It will also serve as a strong networking platform to build and foster collaborative research and to promote interaction between academia and industry. Given the incredible growth and successes of past NGPT conferences, we eagerly await the exciting developments that we expect to come out of the upcoming conference. We very much look forward to welcoming you to Mid Sweden University in July 2022.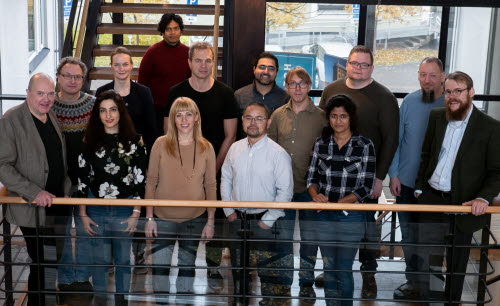 Research in Engineering Physics
A rapid structural transformation is currently taking place in the green transport and energy sectors and the green energy sector, in particular, is experiencing a very high rate of growth. Cars with internal combustion engines are being phased out and many are being replaced by electric vehicles. At the same time, a major expansion in renewable energy production is underway, with a focus on solar and wind power. FSCN's current research projects in the field of Engineering Physics focus on the following:
Innovative green energy applications for harvesting, storing and consuming energy, developed with the help of industrial actors.
Mid Sweden University has strong research in large-scale manufacturing processes that can be used to produce paper with electrical functions. One of its research areas is developing supercapacitors based on paper-industry methods and a cellulose/graphene composite, which creates components that are both economical and environmentally-friendly. Additionally, the research centre is also generating new insights into the production of a silicon-graphene composite material intended to increase the storage capacity of lithium ion batteries used in electric cars.
The university is also helping develop research in the field of renewable energy storage for use in buildings and electric vehicles by combining our latest research findings concerning energy storage with power electronics. This energy storage technique will also act as a peak power buffer in buildings and enable vehicles to be charged rapidly without the need for an increase in installed capacity in the network or new power lines.
Research on an all-new electric motor specially designed for electric cars, conducted in the field of power electronics with help from industry. Today's electric motors are optimised for full output, which does not match the reality of everyday driving. In preliminary testing, this new type of motor has demonstrated a 30-percent reduction in energy loss, resulting in better mileage for electric vehicles. The motor is also designed to tolerate low voltages, which is both better for the batteries and safer than the 400 volts used today.